We Are Not Alone
The We Are Not Alone campaign is rooted in the journey featuring where each artist in the crew comes from in comparison to what makes them unique and how they thrive on their authenticity to find comfort in being together.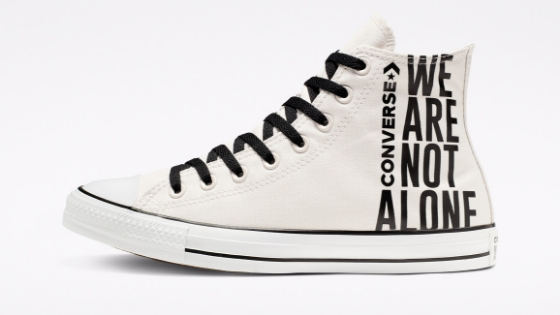 Sportscene collaborated with a crew that is bound by the shared vision to push Cape Town's hip-hop culture forward. FIFE Avenue is a progressive group of individuals with an intertwined love for music. With members from several career backgrounds including content creation, sound engineering and the like, the crew places much emphasis on their common connection to music as a foundation for what they do. The crew creates a safe space for self-expression and consists of Phresh Clique, Psykobeats, Nani Chehore, Zino D and Kay Faith. Nani Chehore says: "I've been with FIFE since the inception, everything happened organically before we decided to become a collective." Similarly, Psykobeats commented and said: "I came from a different country, and I was like, how am I going to connect with people? I felt like an outsider. Connecting with these guys felt natural, it felt like the music I grew up listening to. I said that I want to keep these people around. They're doing things I like, and they're in the places I want to hang out" With the 4-word slogan boldly stamped on the sneaker and the contrasting colour schemes that make it identifiable from virtually any distance, the sneaker represents a unity between the wearer and various social, cultural and technologically inclined
groups alike. The campaign builds a solid understanding about the different walks of life that each artist comes from and being alone when you are different can be chaotic but one can also make peace with themselves when you feel a sense of belonging in a like-minded crew.
We Are Not Alone will launch exclusively at all Converse and Sportscene stores from 9 August 2019 and ranges from R899 –R999.
About Converse Converse Inc., based in Boston, Massachusetts, is a wholly-owned subsidiary of NIKE, Inc. Established in 1908, the Converse brand has built a reputation as "America's Original Sports Company" TM and has been associated with a rich heritage of legendary shoes such as the Chuck Taylor® All Star® shoe, the Jack Purcell® shoe and the One Star® shoe. Today, Converse offers a diverse portfolio including lifestyle men's, women's and children's footwear, apparel and accessories and is sold globally by retailers in over 160 countries. For more information, please visit www.converse.co.za and follow @converse.za on Instagram