Converse – Renew Denim
When we talk about closet classics, we refer to those items in our closets that invoke a sense of nostalgia, namely, that go-to pair of denim jeans and those perfectly worn-in Converse sneakers. The Converse Renew Denim collection is a combination of these pieces with an additional stroke of sustainability that carries the brand's second iteration at developing creative and environmentally friendly products.
Converse's strategy to upcycle beautifully worn denim jeans initially started as a passion project through which employees were exploring the usage of reclaimed materials for their signature canvas uppers on their sneakers. Built on the grounds of using something from your personal closet, each sneaker is authentic and represents the concept of self-expression.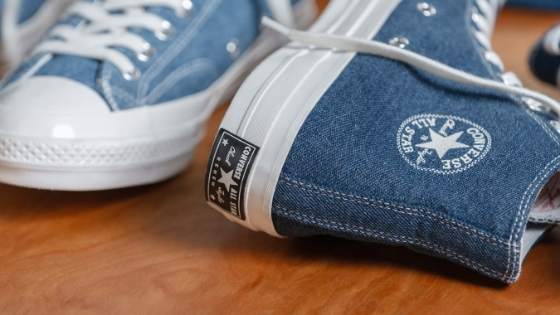 With denim, there's a large supply of the fabric and a unique ability to drive more consistency in aesthetic and feel. Denim is one of the most common materials that end up in landfills and Converse's process, therefore, allows for any single source of upcycled textile to be crafted onto the upper of Chuck 70 high top or Ox.
Converse is working with UK-based sustainable fashion brand and vintage retailer, Beyond Retro, to source tens of thousands of jeans which are sorted into three colour groups – light, medium, and dark – and "butterfly cut" to create Chuck 70 shoe panels. One pair of denim makes approximately one pair of Chuck 70s.
Key features of the Converse Renew Denim collection include an upcycled denim upper that is lightweight and durable and a rubber outsole. The Chuck 70 low top and high top sneakers are available in three washes: light, medium and dark and feature the Converse Renew Chuck 70 license plate. Transforming, morphing and channelling the concept of worn, loved and repurposed, this is the Converse Renew Denim collection.
The Converse Renew Collection will launch exclusively at the Converse Sandton City, Converse Menlyn & Converse Gateway stores on 25 August 2019.
Pricing: The sneakers retail for R1,199.95